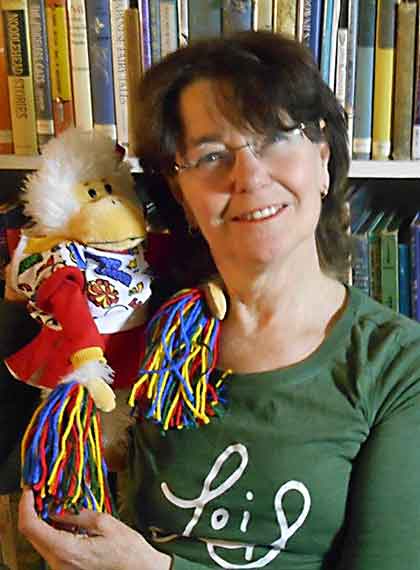 School & Summer Reading Programs
Each year LoiS creates a program to match the multi-state summer reading program theme. One year she and Priscilla Gorilla cheered reading with Cheer the World We Find in the 398s and Summer Reading! Years working with Summer Reading and other programs let her create to match YOUR theme.
Find her work including some Cheers at her blog, Storytelling+Research=LoiS using the topic tag: Summer Reading. This is always a great program for reading and is adaptable to schools and summer reading.
When not creating a new program, she loves going back to an earlier one of water related stories in a Round the World Storytelling Cruise which has entertained a wide range of audiences from Jackson Storyfest to families at the Detroit Institute of Arts, and also at libraries and school assemblies.
CSLP 2021 Lois Keel Preview of "Signs of Whales, Scales, & Animal Tales"
Whether for the 2021 CSLP theme of "Tails & Tales" or a fun program of storytelling about animals Lois Sprengnether Keel, tells international tales about the animals, including three in voice and sign.

Find LoiS in the MI Arts & Humanities Touring Grants directory here.