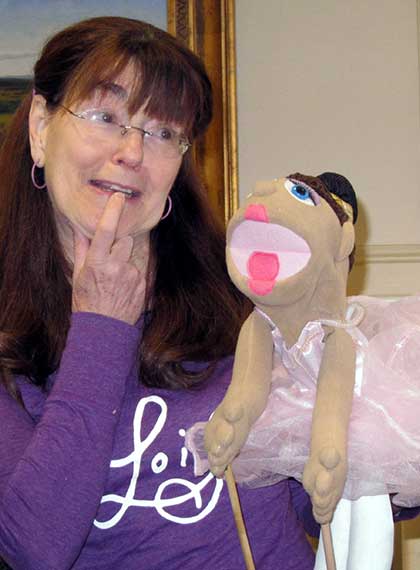 Storytellers are advised to offer only a few programs. It is believed listing too many programs confuses people. After telling stories since 1970, often developing a new program every week, LoiS believes you deserve to see some of the many topics possible. With such a large repertoire of tales, it's easy to develop a program to fit your needs with stories from around the world and back through time.
African-American Stories Collected in Michigan
Anansi and the Gift of Stories - African and Caribbean folktales told with spider puppet
American Sign Language - The third most used language in the U.S. is taught in stories told in voice and sign along with basic signs and fingerspelling
Applefest - Delicious stories from around the world
Around the World Water Cruise in Stories
Biblical World and Our World - Stories from the Bible and stories illustrating Biblical ideas
Circus Is Coming! - The various acts of the circus have stories to be told
Down-Under Tales - Several programs are available: Tall tales unique to Oz; tales of Australian animals; or a ghost-lovers look at spooky places and a tale that rivals Titanic; Blinky Bill the Koala (with puppet)
Earth Is Our Home - Celebrate the elements that make our world
Family Comes First - Stories featuring family members
First Came the Anishinaabe - Michigan and the Great Lakes area First People call themselves the Anishinaabe. You may know them as the Chippewa, Ojibwa, or Ottawa, but do you know their stories?
Friends: The Good, The Bad, and Avoiding Acting Ugly
Great Lakes, Great Stories
Have Stories, Will Travel - Design a program to match country or countries or continents (excluding Antarctic) of your choice
Hi-Bear-nating Tales - Stories about bears here in Michigan and around the world
Holiday Happenings - Celebrate holidays with stories
Imagination Station - stories of wonder and fantasy
Jokes, Chuckles, and Tales with Smiles
Kings, Queens, Princesses, Princes, Knights, & Dragons
Liberetta Lerich Green, her life in Michigan 100 years ago and earlier (See Historical Programs on this website.)
Michigan People Have Stories - Tailor this program to the ethnic background of your group with tales to match their origins
Nature Is All Around Us - Learn about plants, stars, and animals through stories
Spooky Tales and Happenings of Michigan and the Great Lakes
Spooky World - International version of stories tailored to match the level of scariness for different age groups
Stories That Dance - International assortment of stories told by LoiS at the Detroit Institute of Art Degas exhibit
Tales for Winners - Varied tales of sports & physical activities, many including strong female heroes
Tall Tales as Big as You Wish - Original and traditional tall tales, with a look at how to create your own Whopper
Turkish Delight - Tales of the Hodja are told throughout the Middle East under various names, but Turkey claims to have been where it all began
Underground Railroad & the Civil War from the Michigan homefront, including Music (see Historical Programs)
Voices of Our Ancestors - Timeless tales matched to times, people, or places of your choice
When the Wind Blows - Stories about Weather and the Seasons
X = What You Need - Design a program on the theme YOU need
Yell About Yellow, Green, or Blue - Explore some of the many stories that relate to colors
Zoo Who's Who and Beyond - Stories about an individual animal of your choice or an assortment (some are told with a puppet)
This list was created ages ago. They are still available and even MORE now exist.