LoiS-sez Ideas for You – My Blog
To cover a variety of topics, the link below takes you to an offsite blog. Personally I was shocked and surprised to find myself doing this. I always considered blogs quite frankly blah-blah-blog! This is not that kind of blog. I've learned to appreciate bloggers who give useful ideas. It's at Storytelling + Research = LoiS.
Because I work with many different types of venues, expect some topics won't match your interests. A new post appears each week. Please check back again for your area of interest...and tell others.
Is there a topic you want covered? Please let me know at LoiS-sez@LoiS-sez.com.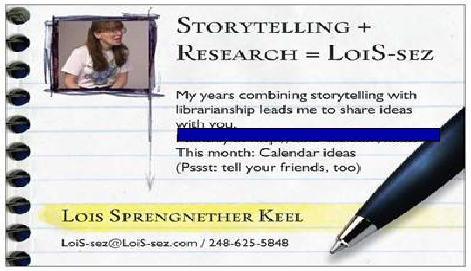 Storytelling Ideas & Suggestions
Each week find ideas at Storytelling + Research = LoiS. For example, there are many posts on the various historical programs with resources there.
Past posts spotlight Summer Reading plans - Use the topic tag "Summer Reading." Ideas there often relate to nature programs, too, such as 2014's astronomy stories.
During the month additional posts of public domain stories appear as part of the blog's series titled "Keeping the Public in Public Domain."
Additionally I have moved another blog to Storytelling + Research = LoiS, "Michigan's 'Fighting Fifth Infantry'", which contains Detroit newspaper accounts of this important regiment. It was earlier a separate blog during the Civil War Sesquicentennial. Programs as Liberetta Lerich Green use this information as part of its research when discussing the Civil War, since her brothers were in the Fifth.